Kids eat free! Kids stay free! Kids admitted free!
From restaurants like Denny's to Holiday Inns to county fairs, someone is frequently offering the chance to bring the little ones along without paying for them. So it's only natural to ask: Are there kids-fly-free airlines?
For children too old to spend the whole flight in your lap, the short answer is no.
But which airline has the cheapest child fares? That would be Frontier Airlines. The airline boasts a Kids Fly Free program, but these deals are only available to people who pay for annual Discount Den memberships.
Are there other discounted kids' fares? You won't find a lot of those, either. After all, a plane seat has the same value to the airline no matter the age of the passenger sitting in it.
But if you have very little little ones, if you fly Frontier a lot or if you can find an applicable kids-fly-free promotion, you just might get your kids on the plane at a significant discount.
On which airlines do kids fly free?
Only Frontier Airlines offers an ongoing program where kids can fly free (more on that later).
However, if you fly Southwest Airlines with regularity and have earned a Companion Pass, your child can accompany you as your companion on a flight for only taxes and fees, which start at $5.60 one-way. Pass holders can change their companion up to three times per calendar year, and if your child is age 6 or younger, you can also take advantage of family boarding perks.
Most major airlines will let babies on board for free, provided they don't take up a seat. American Airlines, for example, has a pretty standard policy: Kids under 2 years old can travel free on the lap of an accompanying passenger age 16 or older on domestic flights.
United Airlines, Delta Air Lines, Southwest Airlines and many others have similar policies for domestic flights, with a cutoff age of 2 years old.
On international flights, there is no fare for lap infants, but fees may apply.
In most cases, you'll need to add the infant to the adult's ticket. You can typically find instructions for this on the airline's website. For example, here are Delta's instructions for adding a lap infant to your ticket.
Sometimes airlines run kids-fly-free promotions, though this usually doesn't happen with the big domestic carriers that will take you anywhere you might want to go. Still, if one of the smaller airlines serves your destination, a kids-fly-free promotion could save you money.
For example, Air Tahiti Nui has a special offer that includes two fare-free seats for kids when two adults pay the full fare. Taxes and fees apply to all four travelers, though, so for each child, the cost can be up to $138. And this only works if both kids are age 11 or younger and the whole crew is flying to Tahiti from either Los Angeles or Seattle.
Scandinavian Airlines discounts fares on some flights for kids ages 2 to 11. But the deal usually doesn't take more than 25% off their airfare. From time to time, deal-spotting travel bloggers announce kids-fly-free promotions from American Airlines, British Airways, Etihad and others, but these are rare and short-lived promotions.
Frontier's Kids Fly Free program
If you fly Frontier Airlines regularly, their Kids Fly Free program just might work out for you.
The program is part of the airline's Discount Den, which costs $60 per year plus a $40 enrollment fee the first year. Members then get access to discounted fares, plus the Kids Fly Free program and other perks.
So if you fly enough, Discount Den membership could eventually pay for itself.
But there's one more hurdle to clear for your child to fly free: The flight you want to book must be Kids Fly Free eligible, and there's no way to know which itineraries offer these fares until you search for flights.
For example, we searched Frontier's website for a flight from Atlanta to Austin, Texas, for one adult and one 5-year-old child departing April 23, 2023. There were no Kids Fly Free fares on that date, but there was one two days later on April 25, meaning we could grab the deal if we flew on that date instead.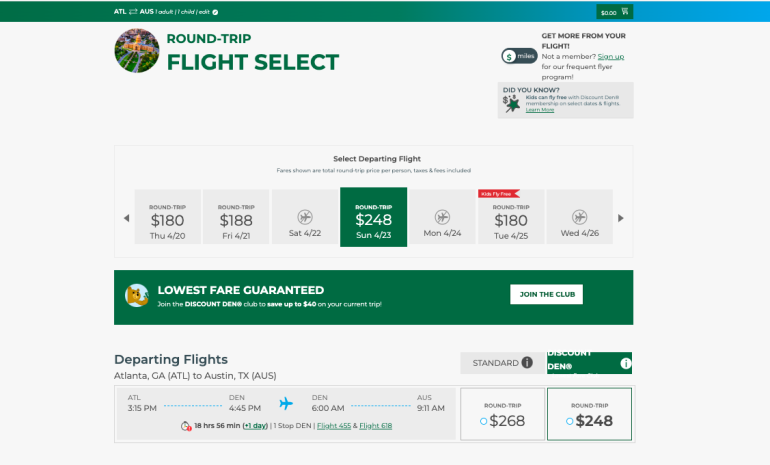 The child must be age 14 or younger and must travel with an adult flying on a Discount Den fare.
Up to nine passengers are allowed on a single Discount Den itinerary. One of the adults must be a Discount Den member. If one parent is a member and one isn't, each parent can still bring along a child for free on eligible flights.
If you collect airline or credit card miles or points, you can redeem them for flights for your little ones or yourself. It's not a kids-fly-free deal per se, but these award flights are a way to get your kids in the air for just some nominal fees and taxes.
Do kids fly free? No, here's what to do instead
Airlines don't like to give away seats, so it's rare to find one that will let children over age 2 fly for free.
Instead of looking for kids' deals, focus on strategies that let everyone in your party fly frugally — award fares, flying off-peak and deal-hunting.
How to maximize your rewards
You want a travel credit card that prioritizes what's important to you. Here are our picks for the best travel credit cards of 2023, including those best for: