U.S. travelers are still hungry to travel, despite the potential of an economic slowdown.
The number of U.S. passengers flying to international destinations in April increased 28% compared with the same month last year, according to the International Trade Administration.
"Demand is strong this summer for international trips as it is the first full summer season with fully open international travel," Hayley Berg, lead economist at Hopper, a travel booking app, said in an email.
Months after international borders opened, "revenge travel" seems to be alive and well. But where are U.S. travelers heading? And how have these geographical trends shifted over time?
Travel trends among U.S. travelers
More U.S. travelers flew to Europe in April 2023 than any other destination, according to International Trade Association data, though Mexico and the Caribbean were also popular.
That trend is likely to continue, according to forward-looking booking data from Hopper.
"Demand for trips to Europe represents almost 40% of all international searches, up from 36% of searches for summer in May 2019," said Berg.
Yet these travel patterns differ significantly compared with 2019, despite the end of border restrictions, suggesting that the pandemic may have shifted how — and where — U.S. passengers travel abroad.
The number of U.S. passengers traveling to Europe in April 2023 compared with 2019 saw only a 13% increase — much less than areas like the Middle East, Africa and South America, which saw huge passenger volume spikes.
Factors at play
Some of these trends could be left over from travel habits formed in 2021 and 2022.
Mexico, for example, saw a boom in U.S. travelers during the pandemic because of its relatively open borders. This trend has continued in 2023, with a 30% increase this April compared with the same month in 2019.
But another factor could be in the mix here, beyond simple traveler preferences: airline capacity (and its downstream impacts on price).
For example, while airline capacity to most regions has nearly reached 2019 levels, capacity for Asian destinations lagged at 83% in March, according to a report from IBA, an aviation consulting company.
That means that while many U.S. travelers may wish to visit Asian countries, there may not be enough flights to meet this demand.
This has another effect: Driving up prices. Price data from Hopper shows that while domestic airfare prices have actually dropped for summer 2023 compared with 2022, flights to Asia are much more expensive, averaging $1,817.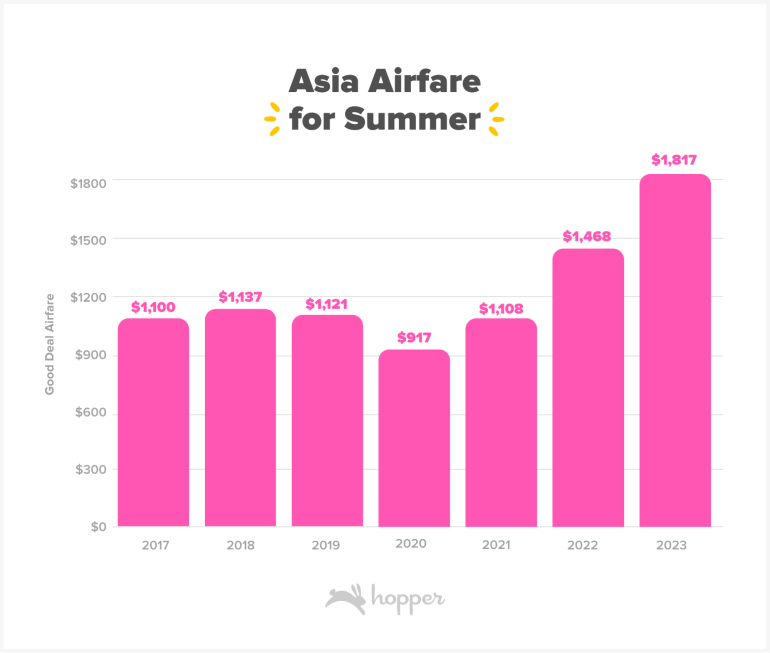 Travelers may not be willing to pay these exorbitant fares, which could explain why travel volume to Asia was still 20% off its 2019 level in April.
If airlines can provide the missing capacity in the coming months, prices should come down and passenger numbers could rebound even more.
Budgets loom
Another factor that could impact travel trends moving forward: dwindling budgets. While travel abroad isn't slowing down, consumers do seem to be getting more price-conscious.
"Though travelers started the planning process later in 2022, they returned to the app to check the price of their trip 25% to 50% more than in previous years," said Berg, citing Hopper's data.
Travelers seeking a bargain could stay closer to home, avoiding pricey long-distance flights. Or they could start paring back their travel generally. Yet the data doesn't suggest that U.S. consumers are backing off just yet.
"If Americans have shown us anything in the last three years it's that their travel budgets are resilient," said Berg.
How to maximize your rewards
You want a travel credit card that prioritizes what's important to you. Here are our picks for the best travel credit cards of 2023, including those best for: