Planning a Walt Disney World vacation includes several steps — especially in recent years.
Choosing flights, booking hotels and purchasing theme park tickets isn't enough anymore. Nowadays, you'll also need to make a park reservation before you visit any Disney theme parks.
Thankfully, even if availability for Disney reservations is limited for your desired dates, you're not out of luck.
Here's how to make park reservations, some tips for visiting the theme park you want to see and how to get Disney tickets when it's sold out.
Making Disney park reservations
Whenever you purchase Disney tickets, you also need to make a park reservation. This policy, started in 2020, can make it a little difficult if you're not planning a trip well in advance.
You'll want to book your reservations as soon as possible to ensure you're able to visit your preferred parks. Reservations are made automatically for all single-day ticket purchases. However, if you have a multi-day ticket or an annual pass, you'll need to make the reservations.
Before doing so, look at the availability calendar, which shows the theme parks available for your desired dates.
In this example, we've selected "Theme Park Tickets," which shows availability in all four parks in July 2023: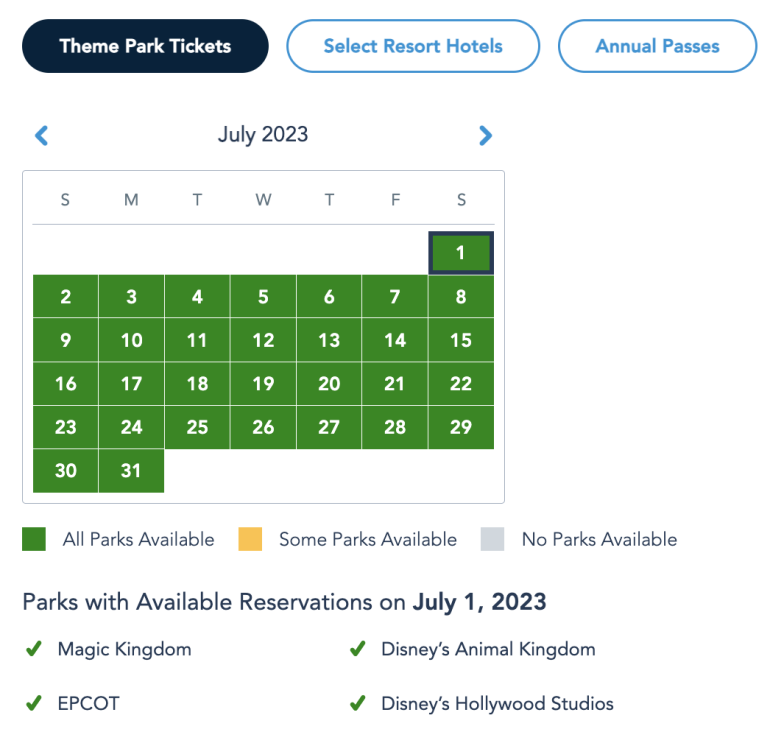 If you select the "Annual Passes" option, you'll be taken to a new page where you'll choose the type of pass you have and which park you want to visit.
In this example, if you have the Pirate Pass, you aren't able to make a reservation for Magic Kingdom during specific holiday weekends in May or July 2023: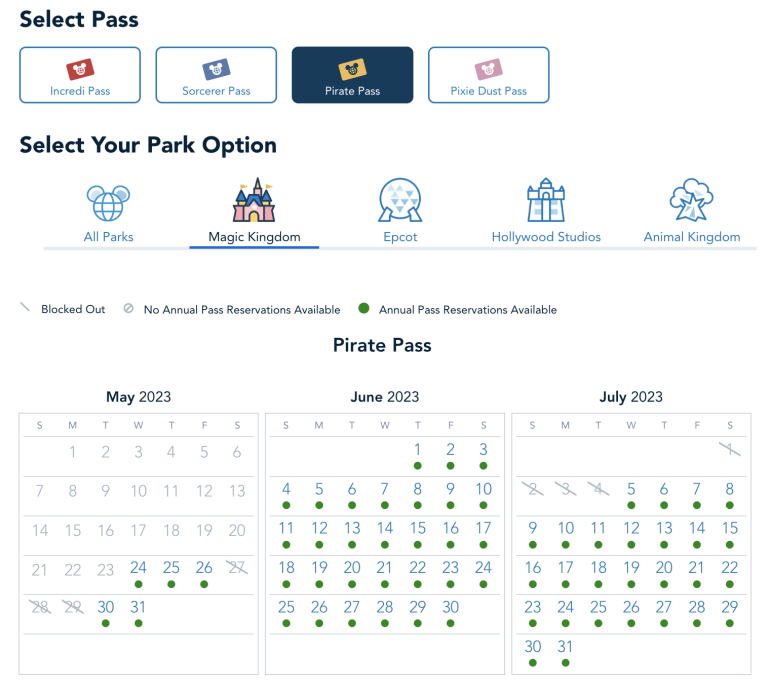 In this case, reservations aren't available due to blackout dates on this pass. This doesn't mean reservations for Magic Kingdom are sold out for all ticket holders, so there may still be other ways for you to visit on these dates if you're blocked out.
After you've confirmed that your dates are available, log in to your Disney account and make reservations on the reservation page.
How to get Disney reservations when it's sold out
Maybe you've waited too long or you're planning to visit on a busy day and the Disney World park you want to visit is sold out.
Luckily, there still are options available even when a park is out of reservations.
Park hop
It's actually fairly unusual for Disney World tickets to be completely sold out. Even if a specific park's reservations are sold out, other parks are typically available.
For example, Magic Kingdom reservations may be sold out, but Animal Kingdom may have reservations available.
And with park hopping tickets, visiting Magic Kingdom is still possible even if reservations aren't initially available.
This is because you can go from one park to another without a reservation after 2 p.m.
So if you've made a reservation to visit Epcot, then, you could get on the monorail at 1:30 p.m. to head to Magic Kingdom. As soon as 2 p.m. hits, you can scan your ticket and enter Magic Kingdom — no reservation required.
Refresh the reservation page
Is it looking like Disney tickets are sold out? Ticket sales may appear to be static, but that's not actually true.
Guests make and cancel reservations all the time, which means it'll benefit you to keep checking back. If your preferred park is sold out, you'll want to periodically refresh Disney's reservation page.
This is especially the case as your dates move closer. There are times when guests make reservations but are unable to go at the last minute.
If you have the page open and refreshing, you'll be the first to find those newly available reservations and can snap them up.
Switch your site
Do you speak another language? If that's the case, you may want to try loading Disney's park reservation page in that language.
It's not clear why you'll see available reservations on one version of the site and not another, but you can use this quirk to your advantage.
Book a resort
There are three types of park reservations available to guests: those with day tickets, those staying at select resorts and those with annual passes.
If you want to visit but your particular dates are blocked out, look at the availability calendar referenced above and choose "Select Resort Hotels." Booking a night at a Disney resort may unlock a park pass reservation during even the busiest periods.
Buy an annual pass
Earlier in 2023, Walt Disney World expanded the benefits of those holding annual passes.
Now, anyone with an annual pass can visit any Disney park after 2 p.m. without a reservation. The only exception to this is at Magic Kingdom on Saturdays and Sundays — pass holders are still required to have reservations during those times.
Disney reservations availability recapped
Walt Disney World is a popular vacation destination for many travelers, whether it's a family heading out for their first trip to the Magic Kingdom or a group of friends committed to drinking around the world at Epcot.
However, it's necessary to plan in advance if you're going to visit Disney World. This is true for dining reservations, hotel bookings and especially for theme park reservations.
If you've planned a vacation when reservations are no longer available, try these tips to still enjoy time at your favorite theme park.
(Top photo courtesy of Walt Disney World)
How to maximize your rewards
You want a travel credit card that prioritizes what's important to you. Here are our picks for the best travel credit cards of 2023, including those best for: