Family vacations often result in some of the best memories, whether you're road-tripping across the country or flying around the world. But paying for travel for the whole gang can get expensive fast.
Fortunately, no matter your clan size, you can travel far and spend less. Here are eight tips for planning budget family travel.
1. Choose your destination wisely
The first hurdle to planning budget-friendly travel for your family is choosing a destination wisely. If the goal is to save some cash relative to all of your options, where you go matters.
For starters, will you fly or drive? If you have a large family, selecting a destination closer to home that you can drive to is likely cheaper than paying for airfare for multiple people.
But suppose you already know you want to visit an international destination or a city on the other side of the country. In that case, the destination itself can be costly or inexpensive, depending on exchange rates and the cost of living.
🤓Nerdy Tip
If you're looking for a budget-friendly adventure, choose your destination based on what you'd like to do, the price of things in that destination and how far the U.S. Dollar will go when you exchange it for local currency.
A beach vacation in Hawaii, for example, will cost more than a beach vacation in Guatemala (where everything from food to accommodations, transportation and activities will be less expensive).
2. Travel during shoulder seasons
Selecting when you travel is just as important as where. That's because most destinations are more expensive during peak travel times, whether you're paying in cash or points. Peak travel periods in some destinations usually include holidays like Thanksgiving and Christmas, as well as spring and summer school vacations.
Other destinations depend on seasons and the weather for their peak seasons. For example, you'll likely find hotels in ski resort areas more expensive in the winter versus summer, whereas other destinations might be more expensive in the summer.
Generally speaking, a shoulder season — like fall — is a more budget-friendly time to travel to many places. If you have the option, conduct a few different date searches on airline or accommodation websites to see what times of the year they typically charge less.
3. Be flexible
That said, if school or work schedules don't allow flexibility to travel during off-peak seasons, you can still save money by choosing the right day to travel.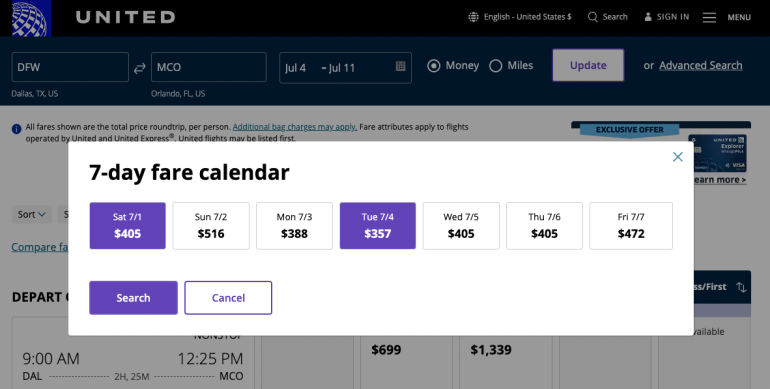 For example, if you're willing to fly on Thanksgiving day or the Fourth of July, you'll likely save more than a few bucks on airfare. Just altering a search by a few days can potentially save hundreds.
4. Consider transportation costs
Airfare aside, if you want to save on transportation, consider all of your options once you arrive. For example, if you're staying in a walkable city or small town, renting a car might be a waste of money. Public transportation and the occasional rideshare or pedicab may be more cost-effective.
The exception? When you're traveling in large groups and your trip involves a lot of driving from place to place. In these scenarios, a taxi or a dozen bus fares might be unfeasible. Instead, research budget car rental options.
5. Search for free experiences
Attraction and experience fees can add up fast when traveling as a family. Fortunately, no matter where you go, there are likely free and inexpensive tourist options.
Many cities offer free museum days where you can explore world-renowned art or history museums at no cost. In other cities, there may be free walking tours (tips are still appreciated).
There's also a chance you'll find a free version of a popular attraction — like hula performances in Hawaii — which could save you big bucks over paid experiences (and you won't feel as bad if young children get fussy and you have to bail).
From museums and tours to outdoor movies and festivals, be sure to search for free things to do wherever you're headed to save some dough.
6. Get creative with accommodations
Sure, hotels and resorts, especially ones that let kids stay or eat free, are always a valid option, but a quick search on a vacation rental platform — like Airbnb or Vrbo — can unearth many possibilities that might be less expensive and more comfortable for a large group.
For a unique experience, consider a home exchange where you swap houses with someone in a different destination for an annual fee, or housesitting, which offers a way to stay in a local's home and take care of their pets or plants, also for just an annual membership fee.
7. Stock up on snacks at the supermarket
Costs for dining out every day can add up fast (especially in today's economy). To save on meals, plan to prepare and eat one or two meals every day at your accommodation, especially if your room has a kitchen. Stock up on groceries and snacks at the supermarket.
That goes for days you'll spend in a car or on an airplane, too, where you'll pay for the convenience of readily available snack foods.
Alternatively, explore the street food scene or go to local markets instead of dining out at a sit-down restaurant. You'll likely find more unique foods from stalls and carts.
🤓Nerdy Tip
Restaurants near tourist areas may upcharge versus those that cater to locals. You can save more money the farther you dine from popular tourist areas.
8. Get travel insurance
Travel insurance may sound like an extra cost when it comes to planning family travel on a budget, but it can save you hundreds, if not thousands, if something goes wrong.
If you need to cancel your trip, someone gets food poisoning or needs stitches and has to go to the hospital, or the airline loses your bag, comprehensive travel insurance can save the day by footing the bill.
Just make sure you read policy details and understand what's covered in the policy you select.
Budget family travel, recapped
Family travel on a budget is possible. You just need to be flexible, get creative, weigh your options and choose your destination wisely to stretch your dollar wherever you go.
How to maximize your rewards
You want a travel credit card that prioritizes what's important to you. Here are our picks for the best travel credit cards of 2023, including those best for: